Sv.Lovrec Pazenaticki – S.Lorenzo del Pasenatico: "Venetian military command base of Pasenatico"
Sv.Lovrec is located nearby the old road that goes from Pula to Buje, near the cross road for Porec, about 39 kilometres far away from Smrikve. It is a lovely town with a strong presence of Venetian's architecture elements. Sv. Lovrec was an important Venetian military command base for the continental part of Istria.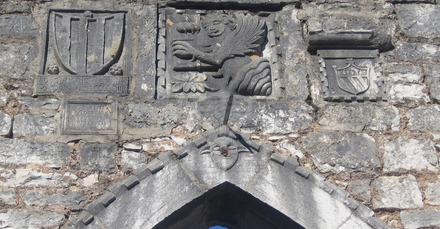 ---
located 39 kilometres from Smrikve
dominant is Venetian architecture
it was an important Venetian military command base in Istria of Pasenatico – the continental part of Istria
not to be missed: the visit of the old town and its defencive walls and gates, frescoes paintings in the Church of St. Blaise, the Parish Church of St. Martin and its loggia, the beautiful stone made well nearby the Parish Church, and the Church of St. Lawrence
Sv. Lovrec was an important Venetian town. It was a military administration centre for Istria from 1304 until 1356, while in the second half of the same century it was the base of the military command for the Venetian territory south of the river Mirna (also named "Pasenatico").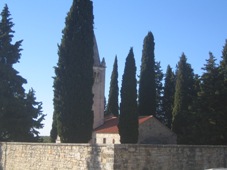 The town was named after cemetery St. Lawrence's Church from the 8th century that is located few hundred meters far away from the old town centre, nearby the road that goes to Porec.
The town is attractive and worth to be visited. It still have well preserved part of the town walls, tall towers and town gates that date from the Venetian period.
Most of the older parts of the town were raised in the 14th and 15th century. This small but historically important town stands on an oval ground map with one main concentric street.
---
SV. LOVREC – VIRTUAL TOUR
Once you parked your car the visit of the town should start from the main gate, also named the big gate.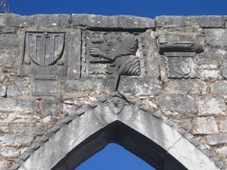 You will recognize this big gate because it has the sharp Gothic arch and is located in the southern part of the town.
Above the big gate you will note several coat of arms, the Lion of St. Mark with closed book from 1530 and a strange stone sculpture representing the head of "Atila".
Similar stone sculpture head can be found in Bozje Polje near Vizinada. The other coat of arms above the main gate are those of the families: Loredan, Moro and Grimani. This gate was rebuilt in 1905.
Before you enter the old town there are few other buildings that are worth to be noted.
Opposite to the big gate there is a small Church of St. Blaise from 1460 and an interesting house with the well on its first floor. The Church of St. Blaise is decorated with frescoes and has few Glagolitic graffiti inside.