Momjan – Momiano: "Momjan's castle in Istrian Muscatel wine kingdom"
Momjan is located in the north-western part of Istria close to Buje. The road that takes you from Buje to Momjan goes through the pretty countryside, small hills. On your way you will encounter a very nice stone country houses where Kabola wine is produced. Momjan is famous for its Castle and excellent wines such as: Kozlovic, Kabola, Sinkovic and Prelac.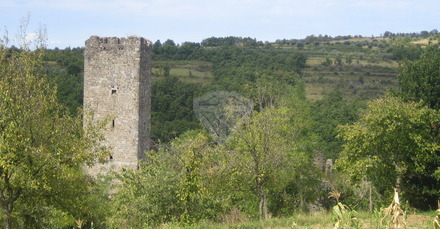 ---
located 70 kilometres from Smrikve
a copy of one of the most important Istrian medieval legal documents, Survey of Istrian Land Boundaries ("Istarski razvod") was found in this village
not to be missed: the visit to the castle and the famous wine cellars in the area
events not to be missed: open wine cellars' day on the last Sunday of May
Istria from Smrikve aims to promote Istrian cultural heritage... Slow Travel, Slow Food and Sustainable Living... and in this section dedicated to Momjan-Momiano's heritage you may note the permament virtual "Slow Travel Exhibition" of selected families and events worth visiting... you will find recommended accommodations, restaurants, wine and olive oil to taste, event to attend... :)
---
MOMJAN – VIRTUAL TOUR
When you arrive in Momjan on your left side you will see the most significant Momjan's building, the medieval castle. The castle would need significant investments for its reconstruction and probably the wealthy families that are known in this area for the outstanding wine and olive oil could contribute to bring it back to its former beauty.
There was a stone bridge that was connecting the castle with the land and today the castle is separated from the village. The main defence tower is the oldest one and also the best preserved part of the castle, probably dating back to the beginning of the 13th century.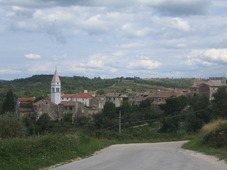 In 1344 the Venetians ordered the Count of Gorizia to destroy it but it is not clear if this happened. It is sure that necessary investments to preserve the castle could make Momjan an important tourist place.
In the centre of the village there is a Parish Church of St. Martin from the 15th century. Since 1567, the church holds the remains of St. Rufo. There are many houses that are under reconstructing so the village will look better and better in the near future.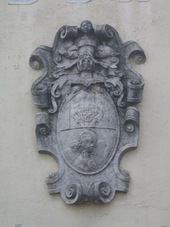 The most interesting building in the village is Rota's family palace. In 1548 Simone Rota bought the castle and his family lived in the castle until 1835. Later on they moved to a house in the village.
It is interesting to remind that, In 1880, Stefano Rota found in his family library a copy of one of the most important medieval legal documents, Survey of Istrian Land Boundaries ("Istarski razvod"), dating back to the 13th century. This legal document was written in three languages: Croatian, Italian and German. This copy, written in glagolitic, was the transcript made by Levac Krizanic.