Pican – Pedena: "Matko Brajsa Rasan birthplace"

Pican is an old hilltop town located in the Istrian hinterland, on the road Krsan - Pazin. You will spot his bell tower on 385 meters high hilltop on your right side. This little town is one of the oldest Bishopric seats in the World. Pican is also the birth place of Matko Brajsa Rasan - the author of the Istrian anthem.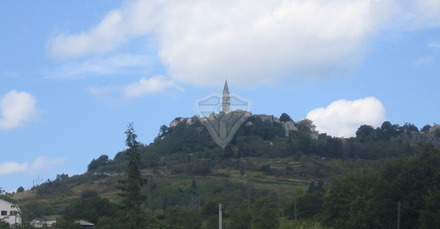 ---
located 50 kilometres from Smrikve
it was probably the fifth Bishopric seat in the history of Christianty and is the bithplace of Croatian musician Matko Brajsa Rasan
not to be missed: visit of the old town, Church of St. Michael and the view from the Parish Church of the Annunciation
Pican was like many Istrian towns and villages a prehistoric hill fort settlement and during the Roman period was a Roman settlement named Petina.
---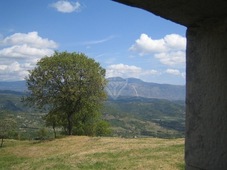 The significance of this settlement in the past is confirmed by the fact that Pican was a Bishopric seat from 579 till 1788. In 1788 Pican was suspended as Bishopric seat by the Austrian Emperor Joseph II.
It is likely that Pican was the fifth Bishopric seat in the history of Christianity.

From the more recent history it is worth to remember that Pican is also the birthplace of musicologist Matko Brajsa Rasan who composed the Istrian anthem "Beautiful Country, Dear Istria" ("Krasna zemljo, Istro mila"). Matko Brajsa Rasan was born in 1859.

---

PICAN – VIRTUAL TOUR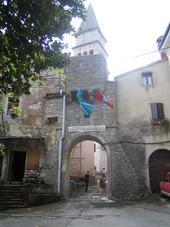 Once you arrive with the car near the main town gates of Pican you will find a large parking place in the shadow of the centuries old trees.
The main gates of the town that you will see date back into 14th century.
The town was encircled by the walls which were renovated throughout the Middle Ages. As time passed the walls were mutilated by building houses on top of them.
Before you enter the town you will note on your left side the small Church of St. Rock from 1638 and the sculpture of St. John in front of it from 1714.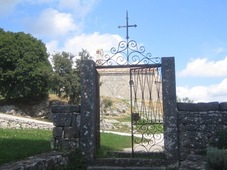 Opposite to the town walls, few hundred meters away, on a hilltop, there is another small Church of St. Michael dating back into 15th century. Its interior hosts Gothic frescoes from the first half of the 15th century.
The church is located on a hilltop where you have a very nice view towards eastern and northern part of Istria.