Medulin – Medolino:"Might be the old Roman settlement Mutila"
Medulin is today one of the most important tourist centres of the southern part of Istria. Some assumptions have been made that this village could have been the old Roman settlement Mutila. Medulin is also known for the fact that the son of Costantine the Great, named Crispo, was exiled by his father to this village and sentenced to death for a crime he apparently did not commit.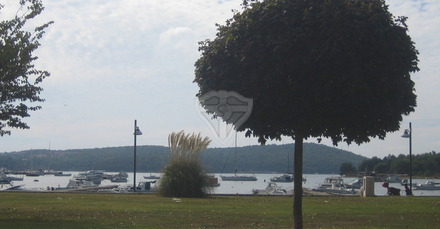 ---
located 14 kilometres from Smrikve
it was an important Roman settlement with beautiful villas and today is a touristic settlement
It is interesting the fact that Paul Kupelwieser, who developed Brioni islands at the end of the 19th century, was interested also in the development of Medulin.
---
In 1907 Mr. Kupelwieser bought important parts of Medulin coast, both peninsulas that form the natural port of Medulin: Vizula and Kasteja.

His idea in origin was to build a passengers port and other tourism facilities and to connect Istria with the other Croatian islands and with Dalmatia.
Medulin had a natural port long 6 kilometres and Kupelwieser's idea was not realized at the time but later on Medulin became a tourist centre, probably a bit different from what was the Kupelwieser's idea, but many families in Medulin today lives from tourism.
In 1918 Paul Kupelwieser published the book, "Memories of the old Austrians", where he dedicated almost a fourth of the book to Medulin. It is very likely that he strongly believed in the possibilities of this project.
It is also interesting how Kupelwieser was attracted by Brioni islands and Medulin. In this both sites there were located some of the most luxurious Roman villas.
It is known that Romans used to build settlements and villas in the most beautiful places taking care about the nature where they were building like: winds, natural protection, etc, and Kupelwieser very likely had the same Roman intuition where to build.
---
MEDULIN – VIRTUAL TOUR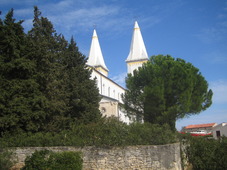 Medulin has spread today over the large territory and the old town's hilltop is dominated by the Church of St. Agnes from 1894. It is likely that on this site there was an older church because the Parish Church books dates back into 1697.
This church has two 36 meters high bell towers and its form represent a unique architecture example in Istria.
It was projected by Natale Tommasi. Natale Tommasi was from Cagnola in Italy and he was the architect of: the Naval Church in Pula and of the current Pula's muesum building. He also contributed to the conservation of most important Roman monuments in Pula and he worked on the conservation of the Euphrasius Basilica in Porec
Not far away from the Parish Church, on the road to Liznjan, there is a small Church of Saints Cosmas and Damian that dates back into 1433. The church has a little bit strange façade because it has only one window. Probably in origin had two windows.