Porec – Parenzo:"Old Roman Parentium and Euphrasius' Basilica"

Porec is located on the western coast of Istria and is among the most beautiful Istrian towns. It is for sure one of those towns that is worth to be visited if your vacation in Istria is more than a week end long. Porec is artistically one of the most significant Istrian urban centres. The very special and famous is the complex of the Euphrasius' Basilica.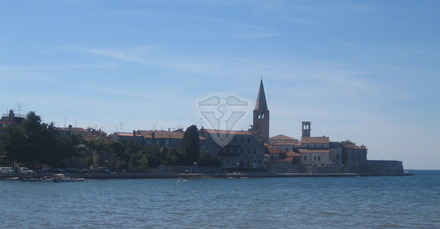 ---
located 53 kilometres from Smrikve
Mediterranean charm and atmosphere
it is the finest example of Byzantine and Venetian architecture in Istria
not to be missed: the Euphrasius Basilica and the Kanonika, the Parisi - Gonano - Lione house, the museum in Baroque palace Sincic, Zuccato palace, Romanesque house with the well with Nicolo Lione coat of arms, the Church of St. Francisco ex Istrian Parliament, Perusino building, the theatre building, the House of Two Saints
events not to be missed: "Vinistra" at the end of April
Istria from Smrikve aims to promote Istrian cultural heritage... Slow Travel, Slow Food and Sustainable Living... and in this section dedicated to Porec-Parenzo's heritage you may note the permament virtual "Slow Travel Exhibition" of selected families and events worth visiting... you will find recommended accommodations, restaurants, wine and olive oil to taste, event to attend... :)
Euphrasius' Basilica was built in the 6th century and is the most important historical monument in Porec. In 1996 the entire Episcopal complex was added to the UNESCO list of World artistic heritage because of its exceptional multi layerdness, the way it has been preserved and its exceptional artistic and historical significance.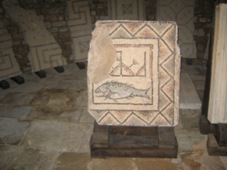 The complex – basilica, baptistery and the Bishop's palace - represent a unique example of Byzantine arts in Istria and is the oldest Christian building in Istria. The Basilica was built on the place where in 3rd and 4th century was placed an older church dedicated to St. Maurus. Today only the foundations and floor mosaics of that older church have been preserved.
The most impressive part of the Basilica are the mosaics in the apse. There is also a marble baldachin built in 1227.
The Basilica often hosts classical music concerts so you can go to Porec on a day when there is also a concert and enjoy both the music and the architecture and art of this place.
---
POREC – VIRTUAL TOUR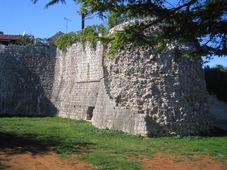 When you arrive to Porec with car following the directions towards the old town centre you will arrive to a big parking place that is located about three hundred meters far away from the old town of Porec.
The old town of Porec is located on a peninsula: 500 meters long and about 250 meters large. Follow the street that goes nearby the coast line and on your right side you will see the bell tower of Eupharsius' Basilica and the old town walls.