Fazana – Fasana:"Amophorea produced by Consul Caio Lecanio Basso"

Fazana is today a picturesque fisherman's tourist village. During the summer almost every night there is something interesting you can do in the evening. Historically it was the summer resort of Roman patricians but also had one of the most important Istrian amphorae factories. Fazana is the gateway towards the famous Brioni islands.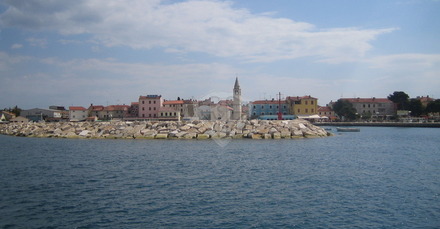 ---
located 5 kilometres from Smrikve
Mediterranean charm and atmosphere
it was an important Roman settlement for amphorae production
not to be missed: the walk nearby the sea, frescoes paintings in the Parish Church of Saints Cosmas and Damian, the Church of Our Lady of Mount Carmel and the old Church of St. Eliseus
events not to be missed: "Festa od Srdela" - pilchard festival held in August
Istria from Smrikve aims to promote Istrian cultural heritage... Slow Travel, Slow Food and Sustainable Living... and in this section dedicated to Fazana-Fasana's heritage you may note the permament virtual "Slow Travel Exhibition" of selected families and events worth visiting... you will find recommended accommodations, restaurants, wine and olive oil to taste... :)
---
During the Roman period nearby Fazana there were several workshops and factories for producing amphorae, tiles, fabrics, vessels and there were also oil mills for processing olives.
Fazana was home to one of the most important amphorae factories of Istria known in the whole Roman Empire. The factory was owned by the family Lecanio.

The amphorae served as containers for transporting different agricultural products such as wine, olive oil, grain and salted and marinated fish.
Fazana is also the starting point for taking the boat for the visit of the Brioni islands. Near to the Brioni gate you will note the office where you can buy the tickets for the islands.
This is also the gate where you can take the boat for the Small Brioni or "Mali Brijun" where Rade Serbedzija and his theatre shows are played every summer.
Fazana is also locally famous for its traditional pilchard festival that is held every year in August.
---
FAZANA – VIRTUAL TOUR
You can arrive to Fazana from Smrikve with car or also by a nice walk. There is a beautiful walking area that follow the coastline and goes from Puntizela and Valbandon to Fazana and continues until Peroj.
Your visit of Fazana could start from the gateway to Brioni. The nearest island you see opposite to Fazana is Big Brioni or "Veliki Brijun".
I can never get tired of Fazana sunset and delicious food in many great food corners and restaurants you encounter in the old town. Not to forget "Re del gelato" ice cream shop!