Barban – Barbana: "Barbianum, Barbanum, Praedium Barbi, vicus Parpanus"
---
On your left side you will see the back of the Church of St. Jacob the Apostle from the 15th century. Also this church hosts frescoes paintings and Glagolitic inscriptions.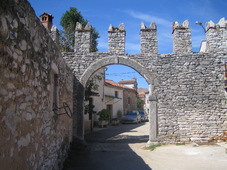 If you go again in the square in front of the main façade of Loredan's palace and take the parallel street with the side street where Municipal loggia is located you will arrive near the eastern gate, also named the small gate.
At the beginning of this street on the right side of the street there is another interesting building from the 16th century with a clock placed on the top of the building that looks like a small tower.
Among the relevant personalities in the history of Barban, should be included the writer Petar Stankovic (Piero Stancovich) born in 1771.
The most famous work made by Stankovic was "The biography of the distinctive men of Istria", published in 1827 and written on over 1200 pages. Petar Stankovic described some 500 distinguished personalities of the time. He also left his personal library of over 4000 books to the town of Rovinj.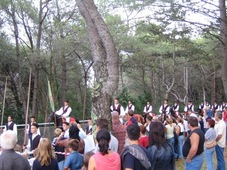 You can visit Barban on the day of "The race for the ring" or you can visit it going to see some other Istrian lovely towns on the eastern side of Istria.
If you like horse riding you can take the opportunity to enjoy this activity at "Ranch Barba Tone" in Manjadvorci that is located in the middle of the villages Barban and Marcana.
In Barban's photo gallery you will find several pictures of this lovely Istrian town and also few pictures from "The race of the ring".
---
BARBAN – HISTORICAL OVERVIEW
Barban has a lot of written records on its history. Like most of the other Istrian towns and villages also Barban has been inhabited since prehistoric times. During the Roman period the settlement was probably named Barbianum, Barbanum or Praedium Barbi.
During the Roman republic period, Vespasianus realized the Consular road that arrived from Pula passing through Vizace and Marcana, and it continued till Tarsatica.
Many centuries ago there was a bridge that crossed the river Rasa and it is not known when the bridge was demolished but its existence is confirmed by Barban's coat of arms.
Later on Barban has been inhabited with the Slavic tribes from the end of the 6th century when Istria was part of the Byzantine Empire. Barban is mentioned for the first time in a document from 740.
In another document from 1150 was named vicus Parpanus. In 1209 Barban became part of the Aquileia Patriarchs dominions in Istria.