Motovun – Montona: "Is today known for its International Film Festival "
---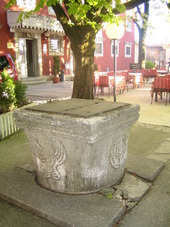 Another beautiful secular building is located on the opposite site of the upside square. This is today Hotel Kastel but this was Polesini palace that dates back into the 16th century. Polesini family owned also the beautiful countryside complex of Sv. Ivan and some nica properties in and around Porec. In front of Polesini Palace there is an old well from 1322.
For the end of the visit of Motovun it is strongly recommended to walk around the town walls of the old town that mainly dates back into the 14th century and enjoy the view towards surroundings of this beautiful town.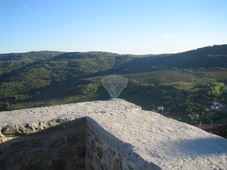 You can take the street that goes towards right from the castle gate. The first tower you encounter is named "Franca". The second tower that looks towards the southern part of Istria is named "Carrara".
There are other two towers on the northern part of the old town. The first one is named big tower and the second one is named lion tower.
Motovun is today known for its International Film Festival that is organized in the last few years at the end of July or beginning of August.
The International Motovun Film Festival is dedicated to films of small cinematographers and independent film productions. The film programme includes films from all over the World.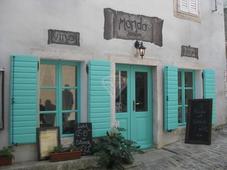 Motovun is also a place where many painters and sculptors gather and therefore it has several ateliers and small galleries. The countryside of Motovun is also known for its woods.
Venetians used the wood from Motovun mainly to built the foundations for their houses in Venice and to built their ships. The autochthonous woods of the region are the common oak, elm trees, and ash trees.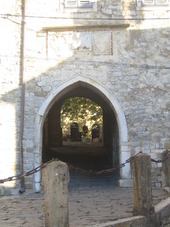 The area of Motovun is also known as the area of truffles. You can find several shops where you can buy good food and wine and in 2009 a journalist from New York Times wrote an article about Konoba Mondo describing this tavern as one of the best in the World. I can say that Konoba Mondo is a lovely tavern and we are lucky to have today several taverns with excellent food in Istria.
It is interesting that Motovun region was also renowned for its vineyards and you will see a lot of them around the old town but today unfortunately there are very few producers from Motovun area that are ranked among the top quality Istrian wine producers.